Students and teachers alike need the summer to recharge and spend time with family and friends. That being said, here are some pointers that you can give your students to maintain their edge over vacation to slow down the summer slide. All of these are effective strategies for interacting with the language outside of class in general. Since it's too late to give students a physical copy, you could post these to your school's learning management system if students have access to it over the summer. Click the links below the blue "download" button at the bottom of the post to download a PDF or Word version of this handout.
Tips for Summer Language Study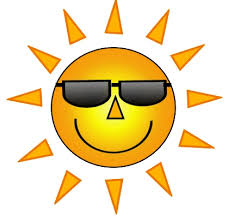 Watch your favorite movies with Spanish subtitles. This is a very effective way to learn new vocabulary in a fun context. In fact, many non-native speakers of English learned by watching U.S. movies and television.
How you do this depends on whether you want to focus on reading the Spanish you see or understanding the Spanish you hear. It can be difficult to do both at the same time when watching movies (especially ones you haven't seen before) because of the rate of speech and the large amount of new and low-frequency vocabulary. I suggest that you keep the audio in English if you're able to read the subtitles quickly enough. Your mind will link up what you're hearing to what you're reading. Remember that we translate ideas rather than directly word-for-word. If you want more listening practice, try turning on the English subtitles and put the audio in Spanish.
Keep in mind that the Spanish you hear can sound quite different depending on what country or even what region within the country that the speaker is from. The more you are familiar with the movie, the better, as your focus should be on the language rather than what is happening on the screen.
Most public libraries or the larger networks that they're a part of have a sizeable collection of foreign films, including many in Spanish. Netflix also has a growing quantity of Spanish films although not all of them have English subtitles. In addition to picking up new words, you will learn a lot about the culture of Spanish-speaking countries through authentic sources such as these.
Follow a blog written in Spanish. Just like in English, there are blogs about anything and everything you can imagine…sports, video games (yes, even Fortnite…), celebrities, music, and more. Remember that you don't have to understand every word that you see to get the gist of what someone is saying. Interact with other enthusiasts in the comments and ask the author questions in the target language.
Download the free mobile app "Duolingo". There are apps for Android and Apple. It's convenient, easy to use, and features a "gamified" learning platform. The developers have made some significant improvements over the years with the main one being an increased focus on high-frequency language. It's great for interacting with basic to intermediate language (which is where we operate in high school foreign language class). The app will remind you to get daily exposure to the language via email and push notifications (which you can disable) on your phone. Duolingo doesn't replace reading and listening to the language in more realistic contexts, but it can be a great supplement.
There are a number of very good television series on Netflix at the moment. "El Internado: La Laguna Negra", "Gran Hotel", "El Ministerio del Tiempo", and "Rebelde" are my top suggestions. There is only the option of Spanish audio, but you can flip between English and Spanish subtitles if you need to. If you watch it with English subtitles, I suggest going back and eventually watching it with the Spanish subtitles to get the maximum benefit.
Fluency Matters (www.fluencymatters.com) has a great variety of leveled readers in Spanish that are written for language learners. This is where the books during our free reading time at the beginning of class come from. Books currently cost $6 each plus shipping. Topics include pirates, sports, ghost stories, the illegal bird trade in Costa Rica, and more.
These authors do an excellent job of intentionally limiting new vocabulary, while exposing the reader to "unsheltered" grammar (mixing tenses and moods), which is a much more natural way of acquiring the language. These are preferable to Spanish books written for native speakers that you would check out from the library because they limit the amount of new vocabulary, which is what makes some texts incomprehensible for novice language learners.
Change the settings on your phone or tablet to Spanish. Since you are already familiar with where everything is on your device, this is an easy way to pick up some technology-related vocabulary.
I don't recommend studying grammar rules or memorizing vocabulary lists and conjugation charts. You will get limited and often temporary results from this compared to using the above suggestions. Memorizing words and verb forms out-of-context like this tends to result in short-term learning rather than long-term language acquisition.
Talk with native speakers whenever and wherever you can even if it's just a brief exchange. Don't be afraid to ask them to slow down or repeat something. They will be flattered that you are trying to speak their language and learn about their culture.

Summer Study Tips – Microsoft Word Document